MARCH 8th – 50% discount for lip enlargement with biopolymer
On this occasion, we wish happy 8th March to all our dear mothers, grandmas, friends, women, girls, daughters, colleagues, associates and our dear patients.
For us, you are always wise and dignified, beautiful, warm, courageous and at the same time gentle, important and inevitable.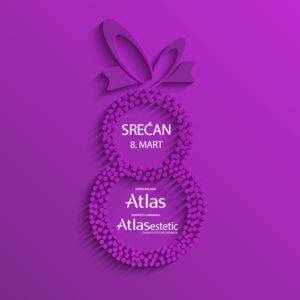 FIVE LADIES WHO LIKE OUR Facebook POST and PAGE, SHARE THIS POST AND WRITE THE BEST COMMENT – WHAT MAKES WOMAN BEAUTIFUL AND HAPPY – we will gifted with 50% discount for biopolymer lip enlargement.
Ladies who are selected on the basis of best comment or comment with the most likes will be contacted through Facebook in order to complete the procedure.
Enlargement of the lips is a procedure of aesthetic surgery which increase volume of the lips and  change their shape.
Biopolymer is an artificial filler that is used to enlarge the lips and it is available in various forms.
There are plenty of positive reviews for biopolymer and quick recovery is guaranteed. Allergic reactions occur very rarely to those who have enlarged their lips with this method.
Filling lips with a biopolymer is not done just becase of lips enlarging, but also because of the regulation of wrinkles that occur around the mouth, as a result of many years of consumption of cigarettes and aging.
How long does the procedure last?
Lip enlargement with biopolymer lasts relatively briefly.
At the beginning, the anesthetic is applied to the lips, which is in the form of cream. It is necessary to wait half an hour for an anesthetic to work and to make the whole process painless.
Biopolymer is injected into the lips by injection, after which the doctor shapes the lips in the desired shape. When the procedure is completed, a cold coating is applied to the lips.
After the end of the intervention, the recovery period lasts for several days. As things do not get complicated, people who have undergone this procedure are advised to avoid laughing, smoking and consuming purely solid foods so their new lips stay in good condition. The appearance of the swelling is possible, but this does not have to worry you, because if the procedure is done properly, the consequences should not occur.
08-03-2017