Antiaging | Mesotherapy
Mesotherapy is a modern method aimed at regenerating the skin and eliminating fine wrinkles.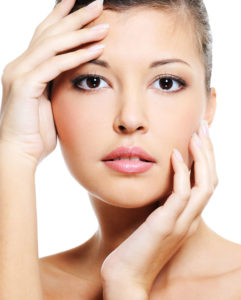 This technique was discovered in 1952 and since then has been used for different aims including reduction of body weight as well as the elimination of fatty layers and cellulite.
Mesotherapy successfully improves skin structure which has become dehydrated over the years.
This method rejuvenates, tightens, hydrates the skin and increases its elasticity and firmness. It also regulates the function of sebaceous glands, reduces open pores and eliminates fine wrinkles on the skin, stimulates hair growth, decreases seborrhea and revitalizes damaged and thin hair.
How is this procedure carried out?
Mesotherapy is applied on the face, body and hair
This procedure consists of injecting vitamin cocktails in the mesoderm by using fine, thin needles.
These cocktails contain hyaluronic acid, amino acids, multivitamins (A, E, C, and D), vitamin B complex and minerals and certain cocktails also contain DMAE (dimethylaminoethanol) which increases muscle firmness.
Several techniques are used for applying cocktails and they vary according to the depth at which the application is performed.
The right choice of technique is very important for achieving the best results.
Superficial or deep injections are given on the disinfected skin within the range of 0,5 to 0,7 cm. The procedure lasts from 15 to 30 minutes depending on the surface of the region.
This treatment is painless, it is only accompanied by mild prickling which can be relieved by using local anesthetic cream.
This treatment may be repeated after 4 or 6 months according to patients' needs.
It is necessary to perform 5 to 10 treatments every five or ten days and results are visible already after a few treatments.
What treatments are all used in Mesotherapy?
Atlas Estetic offers its users the following treatments:
This treatment gives a similar effect to botox, and results last about a month. We are one of the few clinics that have this treatment in our offer. The treatment is used to reduce deeper wrinkles in the forehead region and around the eyes. A cocktail contains a substance similar to the botox – Argireline. If you have deep wrinkles that you want to get rid of and you do not want to use botox, this is an ideal treatment for you. The number of treatments depends on the patient's desire, and the distance between the treatment is 4-6 weeks.

Treatment of stain removal and hyperpigmentation
Hyperpigmentations or stains are dark areas of the skin that occur due to excessive exposure to the sun. They may also occur as a result of hormonal disorders, taking contraceptive pills, and during pregnancy. Often they also occur as a result of aging. Cocktail for this treatment contains active substances that reduce the activity of the process that leads to hyperpigmentation, reduces existing stains, and restores and regenerates the skin. The first results are visible after a few treatments. The number of treatments and the distance between the treatment is individual.
It can be combined with other treatments, and for best results it is combined with chemical peeling.

Treatment for removing hyperpigmentation
For this treatment, a special mesotherapy bleach cocktail is used, which effectively removes the dark circles around the eyes. The number of treatments that is needed is individual. In some cases it can be combined with hyaluronic acid treatment.
For this treatment, a special meso cocktail is used exclusively for hair. The treatment affects the reduction of hair loss, stimulates the growth of new hairs, restores and strengthens the hair follicles and returns the glow to your hair. Meso cocktail, among other things, contains Minoxidil, which gives an extra benefit to your hair. The final effect is shiny and thick hair. Treatment is equally effective in both women and men. An average of 5-8 treatments with intervals between the treatment is 10-14 days.
It is ideal to combine it with PRP hair tratment.
Cocktails containing ingredients that influence the melting of fat deposits, improvement of lymphatic drainage, circulation and diuresis are used. The result of the treatment is tighter and more tough skin, fat deposits are reduced, and consequently there is a decrease in volume. Several regions can be done during one treatment.
For faster and more effective results, it can be combined with lipolysis, lymphatic drainage treatment and cellulite massage.
The number of required treatments is 6-8, and the first results are visible after the second or third treatment. Ideally, the interval between treatment is 7-14 days.

Stretch mark reduction treatment
Stretch marks are reddish or whitish lines that occur most often on thighs, stomach, chest, back, or arms. They are more likely to occur in women. They occur as a result of tearing and thinning of collagen and elastin in deeper skin layers. Therefore, the skin loses its firmness. At the beginning of the stretch marks are reddish colors given by blood vessels, which at a later stage retreate and stretch marks become whitish. They are most commonly found in pregnancy, adolescence and large oscillations in weight. For this treatment, a meso coctail  is rich in substances that influence the synthesis of collagen and elastin.
The treatment is performed every 7 days, it takes 5 to 6 treatments. It is usually not possible to remove stretch marks completely, but they are significantly reduced and the appearance of the whole region is improved.
The treatment can be combined with PRP treatment or chemical peeling.
It is one of the most popular treatments. If you are bothered with fatty deposits in a particular region and want to get rid of them quickly and easily, lipolysis is the right treatment for you. The lipolytic cocktail is applied to the fat tissue with small needles at the desired location, and its active substances break down fat deposits. The composition and amount of lipolytic required are determined individually. The most frequently treated regions are stomach, hips, buttocks and chin. This treatment significantly reduces fat deposits, and consequently it is significantly reduced in scope. The results are most often visible after the second treatment. It is recommended that the diet corrects diet, increases water intake and physical activity. It takes 3-6 treatments at intervals of 2-4 weeks.
The results are permanent if the patient adheres to a healthy lifestyle.