Dr Tatjana Pavičić – Held a workshop at Atlas General Hospital
On Saturday, October 6, 2018. At the Metropol Hotel, organized by Merz Aesthetics and MEDIS, the symposium Future in aesthetics medicine was held.
The lecturer was Dr. Tatjana Pavičić, a specialist in dermatology, who through her extensive experience in cosmetic surgery educated participants on innovations in the field of aesthetic medicine.
The team of cosmetic surgery at Atlas General Hospital actively participated in the symposium and a workshop was then organized in Atlas Hospital, which was attended by all the participants of the symposium via live video link. Dr Igor Georgijev, Dr Nataša Popović, Dr. Nemanja Gajdobranski and Dr. Lazar Pajević exchanged experiences with Dr. Pavičić and through an open discussion explained all the participants' interest. Two Ph.D. patients demonstrated the application of Belotero Fillers and explained the great importance of the application technique, the expertise of the doctor, and the type and quality of the fillers themselves.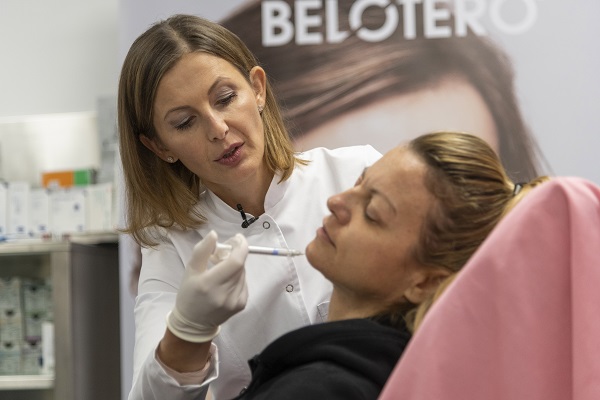 What is the most sought after treatment in anti-aging, we asked both Dr. Pavičić and Dr. Georgijev?
The biggest current interest for the anti-aging industry is found in the realm hyaluronic filters. Hyaluron itself had introduced a revolution in aesthetic medicine and significantly contributed to the improvement and preservation of beauty. It gives the skin looseness, tone and smoothness. Hyaluronic acid is naturally produced in our body and most strongly binds water: One of its molecules takes up to 550 molecules of water. That's why our face looks fresh and hydrated. However, as a result of aging by the early thirties, the concentration of hyaluronic acid and its quality begin to decline. As a result of this loss of hydration the development of wrinkles, stains, freckles, and dry skin begins to develop.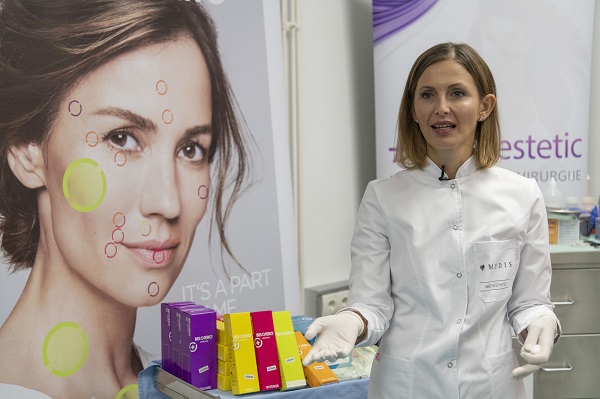 dr Tatjana Pavičić – Belotero fillers
How do hyaluronic filters work on the skin?
The hyaluronic fillers can completely beautify the middle-aged woman's face without going "under the knife". It's a completely safe procedure, the effects of which are immediately apparent. It's best to start with it as soon as the first, finest wrinkles appear, because they are easily corrected then, and our skin is grateful. Hyaluron is used to fill the nasolabial wrinkles, correct the lips, beautifies the nose and alleviates the pronounced bags underneath the eyes. The filler creates a healthy, full, and even appearance explains Dr. Nataša Popović,who is a specialist in plastic, aesthetic and reconstructive surgery,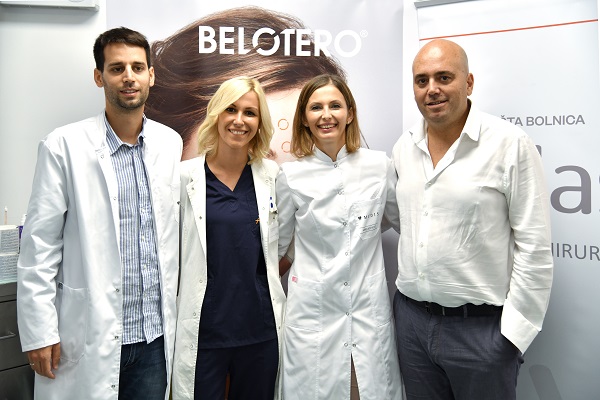 dr Gajdobranski, dr Ćernić, dr Pavičić, dr Georgijev
What to do when we have pronounced wrinkles caused by overly use of facial expressions such as frowning and smiling?
This is where the botulinum toxin enters the scene, or as it's known popularly – BoTox. It works on dynamic wrinkles, i.e. wrinkles caused by different facial expressions (when we laugh, frown or raise our brows). This treatment is the best choice when there is asymmetry of eyelids or eyebrows, to remove furrows and wrinkles in the forehead, in the corners of the mouth, around the eyes, and between the eyebrows, and the nose. Injection of botulinum toxin paralyzes the action of certain muscles and prevents the emergence of new wrinkles and the deepening of already formed ones. As the face cannot perform these creasing actions, as it is somewhat "frozen". With the use of Bo-Tox it is necessary to apply the adequate does, for this the doctors experience is crucial, Dr.Lazar Pajevic a specialist in plastic, aesthetic and reconstructive surgery, points out.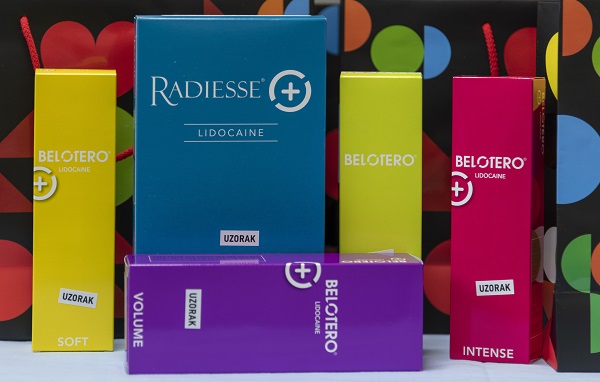 Belotero fillers
What is the most important feature for men in terms of anti-aging?
For men the most important feature would be their hair.  The essential beatification of males has ceased to become a taboo subject Nemanja Gajdobranski, a specialist in plastic, aesthetic and reconstructive surgery, says that it is imperative today for even males to look younger and more radiant as well as nourished.
Many male patients come in for a variety of treatments such as botox, hyaluron, and to re- form their body with lipolysis … however,  most often because of hair transplantation. Hair loss is a common phenomenon that affects about 70% of men and women. In most people affected by hair loss, the most common choice is the one that is cheapest (shampoos, lotions), but they are certainly not the most effective. In the first stage it is necessary to come to the office for a proper detailed examination. It usually moves on with milder treatments, which is PRP treatment and in most cases necessary hair transplantation. An individual approach to each patient is something that Dr. Gajdobranski insists.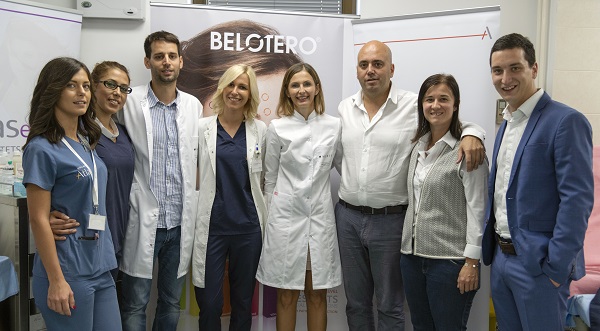 medicinska sestra Mara Jeknić,instrumentarka Sandra Dabić,dr Nemanja Gajdobranski,dr Dušanka Ćernić,dr Tatjana Pavičić,dr Igor Georgijev,Marijana Pavlović – marketing, MEDIS
Who is Dr. Tatjana Pavičić?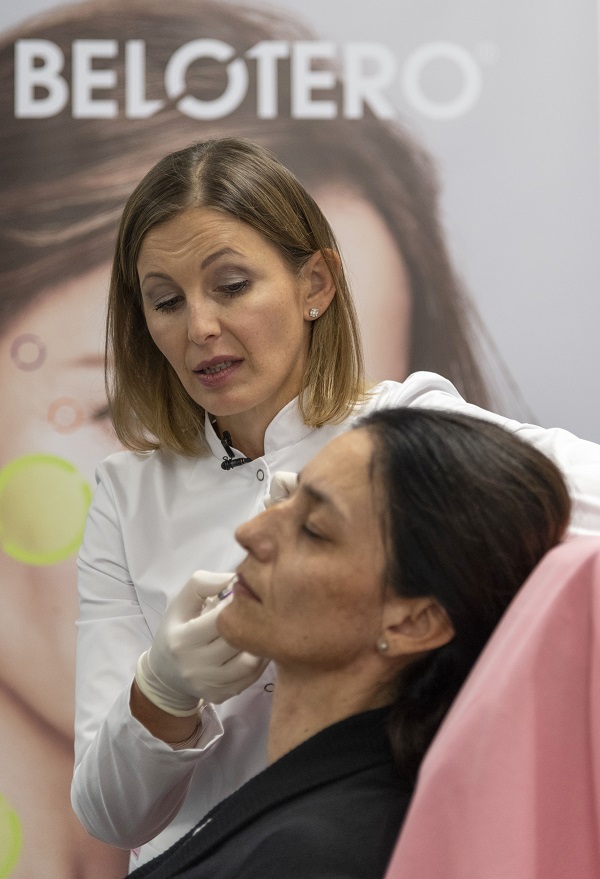 Dr. Tatjana Pavičić is a certified dermatologist specializing in cosmetic surgery and aesthetic treatments with her own private practice in Munich.
She is an internationally acclaimed speaker and trainer for advanced cosmetic dermatology and surgery. Dr. Pavicic is a member of various national and international dermatological and cosmetic societies. She is the Secretary General of the International Peeling Association, former president of the Dermo-cosmetic Group in the Dermo-pharmaceutical Society, a member of the International Dermatological Surgery Committee, a member of the IMCAS Academy Committee and a member of the Global Faculty of the Merz Institute for Advanced Aesthetics. Dr Pavičić describes her specific focus on the basis of a holistic individual approach that combines botulinum toxin, energy-based filters and devices, such as lasers and micro-focused ultrasound.
After studying medicine at the Ludwig Maksimilian University in Munich, she began her dermatological career at the Clinic and Polyclinic for Dermatology and Allergology of LMU in 2004. From 2007 to 2014 she was Head of the Department of Aesthetic and Laser Dermatology.
Dr. Pavičić has been published in international journals on dermatological and aesthetic fields since 2001. One of her main areas of research was complications of fillers and combined treatments. She participated in multiple studies with various molecules and compounds (botulinum toxin, dermal fillers, natural hyaluronic acid, dermocosmetics, lasers, pilings, etc.). In addition, Dr. Pavičić has undertaken training in medical management and marketing in Shanghai and WHU in Vallandar
08-10-2018